Are you SHOWING UP?
Do you know how leaders perceive you in the workplace — and beyond?

Do you offer a unique brand proposition, or are you just another face in the crowd?

Are you getting recognized, and is your career on a forward-moving trajectory?

Have you earned the respect and reputation you need to get ahead?
When someone truly shows up, you know it. Within seconds you're impressed, intrigued, engaged and want to learn more – and maybe even do business with them in the future. In every setting and every environment, they're great leaders, power players and innovative thinkers, and it always comes through and always makes the difference.
It's time for you to "show up." ShowUp! is rooted in the notion that excelling in business is all about four Rs: Relevance, Respect, Reputation and Results!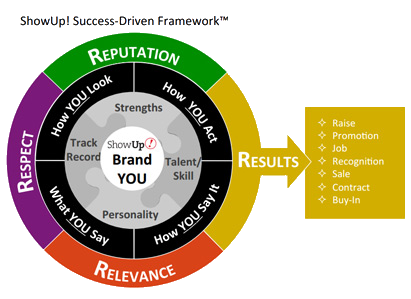 The ShowUp! Success-Drive FrameworkTM
supports you in maximizing the four Rs,
delivering a solution that integrates all facets of YOUR personal brand
— BrandYOU! — to include:
Identifying and validating your core attributes including strengths, skills/talents, personality traits, and track record
Determining which of your traits are unique and make you stand out in the crowd
Crafting your personal brand statement
Elevating your executive presence in terms of…

How You Look, from professional appearance to wardrobe to body language and gestures
How You Act, including business etiquette and social skills
What You Say & How You Say It — specifically verbal and non-verbal communication

Activating your on-line and off-line personal brand visibility campaign to promote BrandYOU
By projecting a strong personal brand and a powerful presence you'll be perceived as relevant, garner the respect you need and shape the reputation you desire — and that's when you'll get noticed and realize RESULTS!
Launched in 2013, ShowUp! (formerly Harris ImageWorks, LLC since 2007) is based in the Washington, D.C. area and has fast become a go-to for leaders, executives, entrepreneurs, politicians and organizations that are committed to SHOWING UP and achieving the successes they deserve.
Our clients and partners come to us from coast to coast, representing virtually every segment and sector out there. We work with leaders at the top of their professions as well as those just starting out—and everyone in between. So what do these diverse clients and partners have in common? They're all power players who want to reach even higher.
They want to look the part, act the part and be the confident, charismatic professional who gets it done. They aren't satisfied with the status quo. They elevate the playing field every time, and when they show up there's no limit to how far they'll go.
Corporate
AirPlus International

Capital Concierge

Delta Career Education Corporation

Fannie Mae

Heart Rhythm Society

Helios HR

McGuire Woods, LLP

Navigant

Travelers

Verizon Wireless

Viking Cruises
Non-profit
Emerge Virginia

National Hispana Leadership Institute (Executive Leadership Program)

National Hispana Leadership Institute (Latinas Learn to Lead Program)

National Society of Collegiate Scholars (NSCS)
College/Universities
American University School of Business

John Hopkins University Carey Business School
Organizations/Associations
Dress for Success Washington D.C.

Girl Scouts of the National Capital Area

National Association for the Advancement of Colored People (NAACP)

National Black MBA Association (NBMBAA)
Women's Events
Bethesda Women in Business Conference

Congressman Jim Moran's Women's Issues Conference

eWomenNetwork

Loudoun County Chamber of Commerce

Middleburg Women

National Association of Women MBAs (NAWMBA) Annual Conference

Prince William Chamber of Commerce Women's Conference

Virginia Women's Business Conference

Women in Technology (WIT)
Our strategic partners are vetted and hand selected by Annette, the Founder & President of ShowUp! Each one brings value-add to the ShowUp! offering and is an expert in their field, ranging from personal care and grooming to professional skin care and cosmetic enhancements, hair and makeup, fitness trainers, weight loss services and more, plus a roster of photographers ready to snap that "after" shot for your social networks, CV, industry directories, websites and press communications. Based on the unique needs of our clients, ShowUp! taps into its proprietary database of strategic partners and experts to craft the optimal approach and assessments to ensure maximum value, impact and RESULTS.