It's President'Ronald Reagan, our 40th President understood the value of managing one's public image and persona.
He was known as a master of "image-making."
President Reagan's Hollywood acting career undoubtedly made him acutely attuned to the art of influencing audience perceptions through his appearance.
Naturally, he exploited this well-honed skill in his career as a politician.
According to Sam Donaldson, who covered the Reagan White House for ABC News, "Reagan understood that the image one projects helps shape the public's view, and I suspect it is not just generational that a president who carries himself in a more formal, dignified manner projects by that a bit more gravitas than a president who dresses and acts like he's just 'one of the guys.'"
Reagan's attention to the details in his appearance and dress was a key component of his image strategy. Here are four lessons business professionals, leaders, entrepreneurs and of course politicians can learn about dress from our 40th President:
1. Dress a Notch Above the Rest
President Reagan wanted to be the best-dressed person in the room – to stand out in the crowd, a lofty goal he seemed to accomplish more often than not.
His style of dress was formal. During the week, he typically wore tailored suits, cut to a traditional pattern. He rarely, some say never; although that is not the case, entered the Oval Office without wearing a jacket and tie.
He did relax the suit-and-tie standard on weekends in the Oval Office; mostly because he knew he set the tone of dress at the White House and didn't want staff to feel obligated to follow his lead by wearing a jacket and tie on weekends.
Reagan possessed a basic belief that his appearance and dress should reflect the gravity of his position as president and of the Oval Office. Although many may consider this an "old school" way of thinking, I believe that it still has merit – and not just in terms of how a president dresses, but how any business professional, leader or entrepreneur dresses for their position.
I invite you to ask yourself the following question on this President's Day "Does how you dress for work reflect your respect for your position and for the company/organization you represent?
2. Dress for the Occasion
Reagan didn't just want to be well dressed; he also wanted to dress properly for the occasion. He understood how to strategically shift his style choices depending on his audience, geography, event, etc. It is said for example, that Reagan asked Britain's then-Prime Minister Margaret Thatcher what to wear before going riding with Queen Elizabeth II during a visit to England.
He was also known for dressing sharply whether he was sporting a pair of denim jeans and a cowboy hat or a tux.
He dressed in a western motif during visits to his Santa Barbara, California ranch, often wearing a denim jacket or jeans. When he wore jeans, they were nicely pressed and often paired with a collared shirt. In other words, casual attire didn't mean shabby for the 40th president.
Companies often hire me because casual dress has gotten out of control. One area they are usually interested in me covering during the training session is how to dress casually (including jeans) and still look professional.
Trust me, my message around wearing jeans is not that you need to press them like Reagan did, but the fundamental principle is the same. When you dress casually, including wearing denim, you should still look polished and tasteful.
My second invitation to you is twofold: First, that the next time you wear jeans to work, pair them with a nice, crisp collared shirt or, for women, a blouse, a blazer, a quality leather belt and a nice pair of dress shoes or pumps. If this isn't how you normally dress, observe whether you get a reaction from your management or colleagues.
Second, ask yourself: Do you know how to dress for the occasion? Don't take this question lightly.
Just a few months ago I was at an awards dinner and networking event held after work at a luxury hotel in the Washington D.C. area. It was a "movers and shakers" type of event.
During the networking portion of the event, I was in a conversation with a gentleman and another women when another well-dressed, refined gentleman joined us at the table. The well-dressed man was looking for the other gentleman's name badge as he introduced himself, but it was nowhere to be found.
Why? Because it was attached to the bottom of his mock turtleneck sweater. Mr. Refined's response: "Why did you wear that to this event?" True story. And, here is the thing, Mr. Refined said what many others were probably thinking instead of actually listening to what Mr. Mock Turtleneck had to say.
Mr. Mock Turtleneck explained that since he has been in business for himself, he has removed all formal work clothing from his wardrobe and therefore no longer owns a suit or sports jacket – hence no lapel for his name tag and, even more importantly, he was completely underdressed for the occasion and did not fit in with the crowd.
A word of caution…it is one thing to want to stand out from the crowd – and it is another to stand out for the wrong reasons.
3. Have a Signature Style
A signature style infuses personality into your overall look, makes your ensembles uniquely yours, and helps you stand out from the crowd. This could be an accessory, type or style of clothing, a color, hairstyle or other distinct feature. The best way to understand a signature look is with a few examples:
Michelle Obama's sleeveless dresses
Gwen Stefani's red lips
"Nancy Pelosi pearls"
Anna Wintour's bob hairstyle
Kim Kardashian's fitted dresses
Mayor Anthony Williams' bow tie (you'll remember if you are a Washingtonian)
If you are over 40, you probably recall Sally Jessy Raphael's red glasses and Regis Philbin's "Who Wants to Be a Millionaire" monochromatic shirt-and-tie ensemble
Reagan was the James Bond of the White House. Along with his traditional-style suit, Reagan consistently paired it with a crisp white shirt, knotted his tie in a conservative double Windsor, wore French cuffs and links, and wore a white pocket square to distinguish his look.
His white shirt, of course, strategically peeked out from his jacket sleeve so you could see his cuffs.
And, of course, we cannot forget his perfectly coiffed, slicked-back jet-black hair.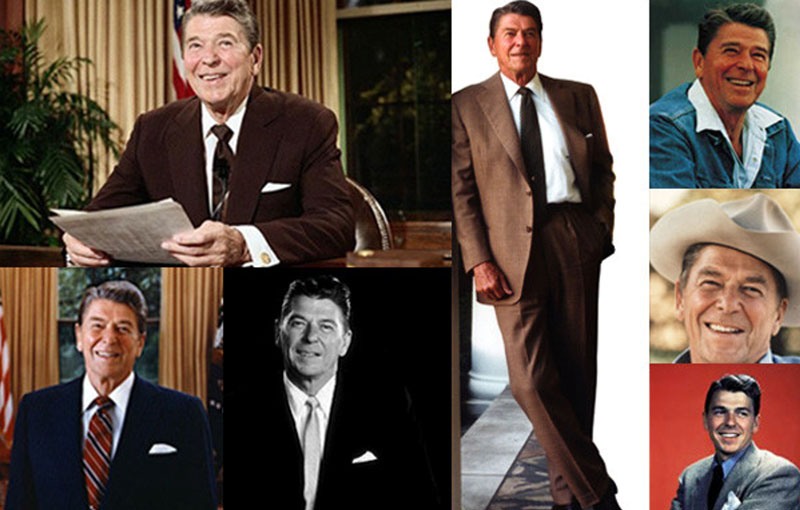 4. Take Some Style Risk
"Ronald Reagan has changed the direction of fashion," ~John Malloy, author of "Dress for Success"
Reagan is credited with bringing back the brown suit while he was in office. He took a style risk and stepped out of the political dress status quo of only wearing blue and gray suits. He successfully made brown-/beige-suiting look formal, appropriate and chic.
Reagan is also a good example of how not everyone can get away with going against prevailing style norms, as seen with Obama's tan suit ordeal (to learn more click here and/or click here) a couple of years ago.
So, when you take a style risk, it definitely needs to be calculated.
 Reagan is also remembered for wearing a glen plaid suit to an event, which garnered attention and definitely made him stand out from the crowd.
Beyond Dress – "The Great Communicator"
What I appreciate about Reagan is that he did not simply dress so that he would be perceived as a strong leader – he communicated like one too mastering the art of verbal and non-verbal communication.
He was known as "The Great Communicator." From the way he walked to a podium to his smile to his posture to being a charismatic speaker and an effective listener – Ronald Reagan knew how to "show up" in every way.